15 Ways to Use Engraved Stones for Hotels, Restaurants and More
Welcome people into your space with engraved natural stones. They're perfect for both catching the eye and promoting a calm atmosphere, and are a simple way to communicate with guests.
Labels for Food and Beverages - Plenty of hotels and other lodgings put out wonderful buffet spreads for their guests. Instead of food and beverage labels that can get smudged or blown away, set attractive, labeled stones or personalized paperweights next to the trays and pitchers.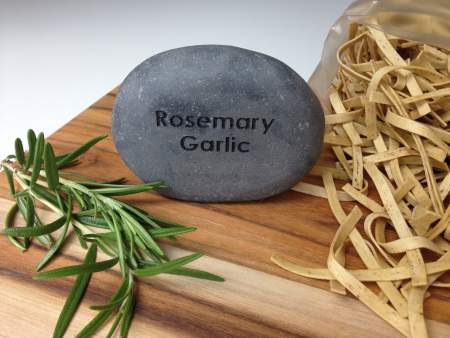 Messages in Guest Rooms - Let guests know about their room by placing engraved stones when needed. They could say "No Smoking," "Breakfast at 8" or simply "Welcome." Think of these as message stones for communicating with guests.
Spa and Yoga Studios - Create a calm, rejuvenating atmosphere with natural stones with words that say "Breathe," "Peace" or a related meditative quote. Set them where they'll be seen before a massage or workout to motivate or relax.
Mementos for Guests - Show appreciation for their business and help guests remember their time with you by giving an engraved stone. Choose a color and finish that suits your style, and engrave with your name and the current year for the perfect memento.
Restaurant Tables and Counters - Engraved stones can work as part of a centerpiece or as labels in a case of homemade pies. You could even allow guests to place them at the end of their tables to signal to servers that they need water, coffee, etc.
Bookend Accessories - Add a special touch to the library of your bed and breakfast with engraved standing stones next to your bookends. A large stone may even be able to hold an engraved image of your beautiful building! These are truly inspirational rocks.
Rock Gardens - Give your guests something beautiful to enjoy while strolling around your grounds. A rock garden with engraved stones is an attractive and interesting project that you can continuously add to over the years. You could even make a seaside-inspired indoor garden with some of our colorful glass stones or sea glass.
Business Card Holders - Whether you're running a spa, hotel or tourist attraction, it pays to have your name and contact information in an easy-to-reach place. Our business card holders are an attractive way to store and share your business cards.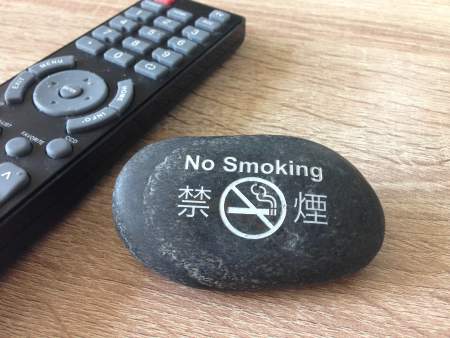 Keychains - Give them a memory they'll think of every time they unlock the house or start the car. Engraved stone keychains are perfectly sized to fit on your key ring and are smooth, so they won't scratch the keys.
Markers in Historical Sites - Ditch paper labels and plaques in favor of natural rocks. Especially for an outdoor or rural setting, engraved stones can add an earthiness to your exhibit, and are durable enough to last for years to come.
Souvenirs - Instead of a cheap plastic memento, guests can take home stones with words, like the name of their destination or a meaningful image. This is especially great if you're welcoming people to a river location.
Gifts for Participants - Perhaps you manage walking tours or facilitate challenging experiences, such as skydiving or spooky history tours. Give your participants a reward that represents their strength or courage with engraved stones.
Beverage Stones - Lots of breweries and distilleries offer tours to their guests. Top them off with a beverage stone engraved with your logo. They'll think of you every time they plop one into a cold cocktail!
Weekend Retreat Remembrance - Stones with words can serve a purpose, such as to remind people of a meaningful weekend retreat. Opt for personalized paperweights or message stones bearing the theme of your weekend.
Seaside Sea Glass - Our sea glass is charming, carrying the calming blues, greens and whites of the seaside. If you run a beach resort or any business near water, these can be a lovely complement to an open, airy atmosphere.
You can find all kinds of uses for engraved stones in hospitality when you want to enhance a warm and welcoming atmosphere. Their natural look suits any décor and will be a long-lasting investment.