14 Ways to Use Engraved Rocks for Students
Kids receive all kinds of gifts, many made from cheap plastic that doesn't last the week. Give students something that will stick with them for years to come, and be an attractive, functional piece to boot.
Gifts for Graduates - As they go on to college or their new careers, graduates can bring along engraved rocks with messages of encouragement for the future. A few ideas might be the school motto, quotes on a field of study or a passage from "Oh the Places You'll Go" by Dr. Seuss.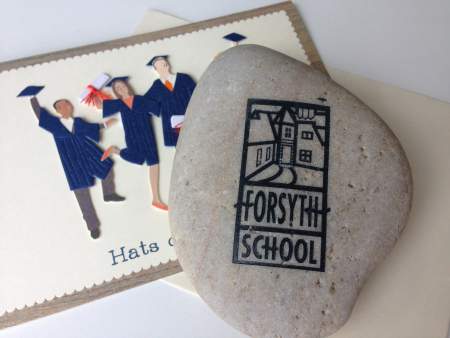 Messages for Special Projects - From grade school to grad school, students take pride in their work. Recognize accomplishments with symbolic images or even inside jokes that arose from the project with engraved rocks.
Admissions - Let new students know they're part of something special with welcome stones as part of an admissions packet. Engraved rocks will sit perfectly on those dorm room desks, and last well past the college years, evoking great memories for recipients.
Commemorations - Special programs, presentations for friends and family or the opening of a new school building are all big events to school-age children. Make them a part of it with a small stone carrying the name and date of the event.
Quiet Classroom Corners - Younger students can use a place in the room that's for quiet time and looking inward. Set up a thoughtful spot with pillows, art and a few engraved stones expressing various emotions, and let the kids do some self-exploration.
Library Accessories - Use some of our standing stones to create interesting library accessories in your classroom. You could engrave the teacher's name, a saying about books and reading, or words you want the children to learn. These would also make nice gifts for other teachers or administrators.
Teaching Tools - Try something new when you teach math, letters, colors or even a little geology with natural engraved stones. The bright colors of our glass stones will catch students' eyes and the engraving of river rocks will be easy to read.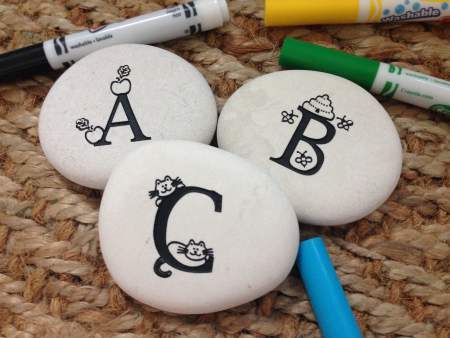 Labels for Projects - Add an extra touch to the science fair when you use engraved rocks as labels for various projects. Teachers can use these year after year as they are durable and meant to last. It'll be a memorable addition to these right-of-passage projects.
Awards - Student of the month, valedictorian or best artist--there are always students achieving wonderful things. Award them with engraved stones that they can use as a paperweight or display piece well beyond their college years.
Keychains - High school students, many of whom have a new set of car keys, might enjoy an engraved keychain as a gift. You could even opt for this as an alternative to the traditional class ring. It would also be a nice parting gift after drivers ed.
Talking Stones - Younger students often have a hard time keeping quiet in groups, and will blurt out whatever is on their minds. Teach them patience with a talking stone during show and tell or other group activities.
Art Projects - Keep a collection of engraved stones for students to work into all different kinds of art projects, from sculpture to collage. Students will enjoy using language as a part of their artistic work.
Class Motto - As a project, come up with a class motto that represents the ideals and goals of the specific group. Then surprise the students by having the motto engraved on beautiful river or glass stones and give them as gifts at the end of the year.
"You Rock" Rocks - These engraved rocks with "You Rock" written on them can boost confidence and send a prideful message to the recipient. These stones are varied in color to be as unique as the recipients.
Give the young people in your life a gift with meaning. Years down the road, they can read the engraved rocks and remember that exciting time when their whole lives were in front of them. You'll be making a bigger impression than you know!