15 Ways to Set Your Corporate Brand Apart with Engraved Stones
Engraved stones are a wonderful way to add that special touch in a corporate setting. Sleek and attractive, they can represent anything from strength and durability to innovation and individuality.
Business Card Holders - Like a small paperweight, a 3-inch stone will sit below business cards and keep them in place at an event or on a desk. Engrave with a name, motto, logo or image that attracts attention and encourages curiosity.
Message Stones - With known phrases like: "Have you moved your BIG rocks?" or a company's own tag line, message stones can be used for personal display or even advertisements. Place these custom engraved rocks around the office or give as gifts to motivate and inspire!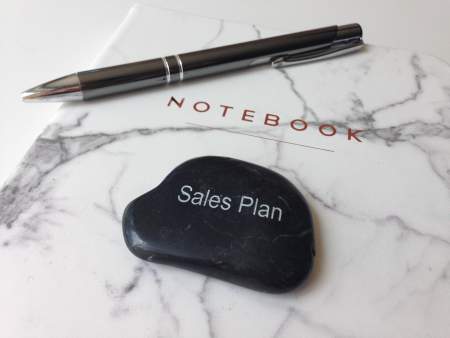 Gifts and Giveaways - Whether you personalize each individual stone or purchase the same message in bulk for an event, engraved stones make a simple yet memorable gift or prize. With beautiful colors and natural markings, each rock is one of a kind.
Company Values - Set your core values in stone when you create engraved river stones. These could be ideal welcome gifts for new employees, displays for customers to see in your office or a creative way to illustrate your message in the next company meeting.
Meeting Starters and Ice Breakers - People speak more easily when you give them a topic or prop. Why not pass around engraved river stones featuring positive traits and characteristics of attendees or key themes of a meeting or conference?
Employee Recognition - From annual awards to daily appreciation, employees like recognition of their hard work. Give them a symbol of their worth with a personalized stone that they can bring home or display on their desk. Our Standing Stones are perfect for this, as they're relatively large and eye-catching.
Customer Appreciation - In lieu of a thank-you note, consider offering something that will truly set you apart. Engraved with an attractive image or a simple "Thank-You," a stone will remind your customers how much you appreciate their business.
Advertising - Beautiful custom engraved rocks are going to be more eye-catching than another brochure or ink pen. Select fonts, colors, words and images that suit your brand, and share your one-of-a-kind message at your next event!
Non-Profits - For a meaningful piece that won't break the bank, consider engraved river stones. As gifts for donors or inspiring displays around the office, they can symbolize your solid core values and dedication to a cause.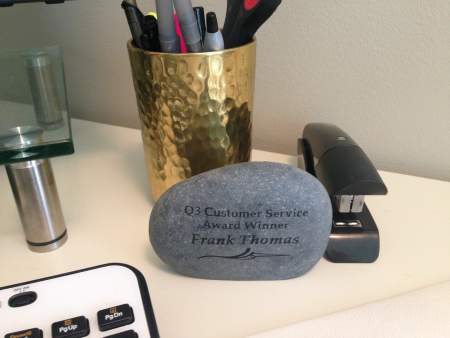 Bookend Accessories - Offices and workspaces often have collections of books--anything from dictionaries to manuals. Put the finishing touch on yours by displaying them with custom engraved rocks that feature appropriate quotes or the company logo.
Talking Stones - More traditionally seen in non-professional settings, talking stones might work well at certain company meetings. Whoever is holding the stone is the only one allowed to speak, which could come in handy if a group is prone to interrupting or not speaking up at all.
New Employee Gift - Make new employees feel like part of the team right off the bat. Give them engraved stones with a phrase and image that are meaningful to the business, perhaps something a little more personal than the company name and logo.
Sitting Area - Create an inviting area (or a few, depending on your space) in the office where people can sit to relax, daydream or talk quietly. Then, add some engraved river stones for decoration and inspiration that employees can look at or hold.
Corporate Stone Keychains - Perfect for giveaways at an event or trade show, stone keychains are a simple way to keep your brand name in people's minds. Engrave yours with your company name and/or the date of the event/trade show for easy advertising.
Beverage Stones - If you are in the business of food and/or drink, our Basalt beverage stones make a unique and appropriate gift. These can be stored in a freezer and added to any beverage to keep it cold without diluting.
The possibilities are endless with natural engraved stones, and they're sure to leave a lasting impression of your company.